ABOUT MyMROmarts
LESS WAIT, QUICK FIX
Since 2022, MyMROmarts has specialized in construction and agriculture machinery parts, offering customers with a one-stop platform for aftermarket parts supply. We are dedicated to providing DIYers and professionals with replacement parts of heavy equipment at a large variety with price advantages. Along with our belief of "Less Wait, Quick Fix", we continue to deepen our supply chains, to ensure rich categories, adequate inventory and timely delivery, so that customers can quickly find accurate parts, easy to complete equipment maintenance.
We expert in quality aftermarket replacement parts of heavy equipment, offering replacement engine parts, electrical parts, hydraulic parts, body parts, undercarriage parts, etc. of excavators, tractors, forklifts, and aerial work platform from CAT, KOMATSU, HITACHI, VOLVO, JOHN DEERE, CUMMINS, CASE, KUBOTA, MITSUBISHI, YANMAR, etc. Today, we have over 35000 parts in stock, with two warehouses in the U.S. and P.R.C.,and separate offices at 401 RYLAND ST STE 200-A, Reno, NV 89502, USA, and RM 611, Jucai Building, 308 Binkang RD, Changhe ST, Binjiang, Hangzhou, Zhejiang, China. respectively. At MyMRO, always have what you need, always at quick delivery to your door. We are proud of our adequate stock, quick delivery, specialist service, and source pricing that always meets and exceeds our customers' expectations.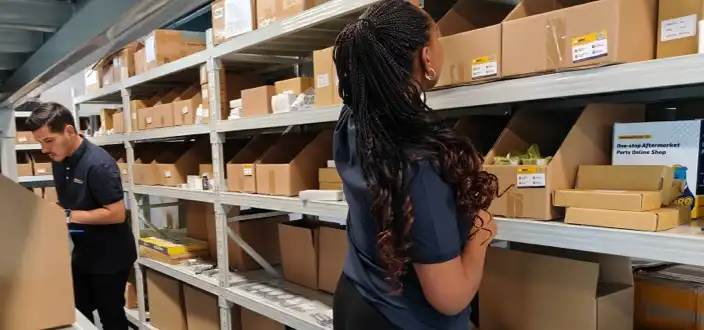 Fast Shipping | Adequate Stock | OEM Quality | Affordable Price
Secure Shopping | Mature Supply Chains
PARTS EXPERTS ON CALL
Have you ever placed an order only to find out it doesn't work and there's no one to call? Are you having trouble finding the right parts? We do understand, you need the right parts to repair your equipment urgently. When you are confused about finding replacement parts, do not hesitate to ask us for help. Our team supports online chat, email and phone calls to help you with expert advice whenever you need it.
RELIABLE WARRANTY FOR YOU
You may be concerned about the experience and warranty of buying parts from MyMROmarts. We provide you with trusted service and a return guarantee, making your purchase 100% safe. We promise a 30-day money back guarantee on all aftermarket parts purchased from MyMROmarts. Also, our parts experts are always available to help you to ensure you get the right part the first time.
GET YOUR PARTS QUICK
We make just-in-time happen all the time! We have companies and warehouses in the U.S. and CHINA.
USA Address: 401 RYLAND ST STE 200-A, Reno, NV 89502, USA
CHINA Address: RM 611, Jucai Building, 308 Binkang RD, Changhe ST, Binjiang, Hangzhou, Zhejiang, China.
We are committed to 72 hour shipping and 2-7 day delivery to your door, make you less wait, quick fix.
COMPLETE QUALITY INSPECTION
We pride ourselves on our extensive supply chain resources and have a professional team to select high quality, OEM compliant and cost effective parts with strict quality inspection processes and standards, all parts will go through at least three inspection processes before delivery to you to ensure that your needs are met and your parts problems are solved once and for all.
BULK ORDER ACCEPTED
SOURCING PRICE | FIND ALL AT ONCE | QUICK QUOTES
If you are a dealer, managing a fleet of heavy equipment for business, heavy equipment rental shop, even a parts shop, there is no better place place than MyMRO. We are proud of our mature and extensive supply chain resources, helping you find all replacement parts at once with best price advantages and quality, and make you one step ahead of others.